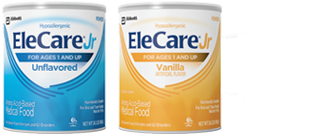 EleCare® Jr is designed to meet the nutritional needs of children ages 1 year and older.
EleCare® Jr
Complete Nutrition for Your Growing Child
EleCare Jr is designed to meet the nutritional needs of children ages 1 year and older who cannot tolerate milk, soy, or protein hydrolysate formulas. The amino acid-based, hypoallergenic formula is clinically shown to be effective for maintaining growth in children with severe food allergies and cow's milk allergy when used as a primary source of calories.1 Plus, EleCare Jr meets or exceeds 100% of the Dietary Reference Intakes (DRIs) for protein and 25 essential vitamins and minerals for children ages 1 to 13.†
†In 1,000 mL for ages 1 to 3; 1,300 mL for ages 4 to 8; and 1,700 mL for ages 9 to 13 when fed at 30 Cal/fl oz
EleCare® Jr Nutritional Information
Vitamins
Minerals
Protein Equivalent, g
14.3
Vitamin A, IU
1280
Calcium, mg
543
Fat, g
22.7
Vitamin A, mcg RE
384
Calcium, mEq
27.2
Carbohydrate, g
49.3
Vitamin D, IU
281
Phosphorus, mg
395
Linoleic Acid, mg
3939
Vitamin D, mcg
7.0
Magnesium, mg
74
Calories
469
Vitamin E, IU
9.71
Iron, mg
8.3
Vitamin K, mcg
60
Zinc, mg
5.4
Thiamin (Vitamin B1), mcg
985
Manganese, mcg
601
Riboflavin (Vitamin B2), mcg
495
Copper, mcg
601
Vitamin B6, mcg
393
Iodine, mcg
41.6
Vitamin B12, mcg
2.0
Selenium, mcg
12.5
Niacin, mcg
7878
Chromium, mcg
10.9
Folic Acid (Folacin), mcg
139
Molybdenum, mcg
12.3
Pantothenic Acid, mcg
1974
Sodium, mg
212
Biotin, mcg
19.9
Sodium, mEq
9.2
Vitamin C (Ascorbic Acid), mg
42.5
Potassium, mg
706
Choline, mg
140
Potassium, mEq
18.0
Inositol, mg
23.6
Chloride, mg
281
Vitamins
Minerals
Volume, mL
1000
Vitamin A, IU
2769
Calcium, mg
1174
Protein Equivalent, g
31
Vitamin A, mcg RE
830
Calcium, mEq
58.7
Fat, g
49.1
Vitamin D, IU
608
Phosphorus, mg
854
Carbohydrate, g
106.7
Vitamin D, mcg
15.2
Magnesium, mg
160
Linoleic Acid, mg
8520
Vitamin E, IU
21
Iron, mg
18
Osmolality, mOsm/kg H2O
590
Vitamin K, mcg
130
Zinc, mg
11.7
Calories
1014
Thiamin (Vitamin B1), mcg
2130
Manganese, mcg
1300
Riboflavin (Vitamin B2), mcg
1070
Copper, mcg
1300
Vitamin B6, mcg
850
Iodine, mcg
90
Vitamin B12, mcg
4.3
Selenium, mcg
27
Niacin, mcg
17040
Chromium, mcg
23.5
Folic Acid (Folacin), mcg
300
Molybdenum, mcg
26.5
Pantothenic Acid, mcg
4270
Sodium, mg
459
Biotin, mcg
43
Sodium, mEq
20.0
Vitamin C (Ascorbic Acid), mg
92
Potassium, mg
1526
Choline, mg
303
Potassium, mEq
39.0
Inositol, mg
51
Chloride, mg
608
EleCare® Jr Mixing Instructions
Your child's health depends on carefully following these directions. Ask your child's doctor if you need to boil (sterilize) water for formula preparation. Depending on the child's specific needs, preparation will vary as prescribed by physician. Follow physician's instructions carefully.
Wash your hands, surfaces and utensils.
Pour desired amount of water into clean container (see Powder Mixing Guide).
Add powder; return dry scoop to can.
Cap container; shake well.
Once feeding begins, use within 1 hour or discard.
Powder Mixing Guide

Dilution at 30 Cal/fl oz

Measure water
+
Add scoop(s)of
unpacked level powder
using enclosed scoop
=
Final volume (approx.)


5 fl oz

4 scoops (38 g)

6 fl oz

7.5 fl oz

6 scoops (57 g)

9 fl oz
For most accurate results, EleCare Jr should be weighed on a scale that reads in grams.
1Sicherer SH, Noone SA, Koerner CB, et al. Hypoallergenicity and efficacy of an amino acid-based formula in children with cow's milk and multiple food hypersensitivities. J Pediatr 2001;138:688-693.
*Nutrient values are applicable when prepared as directed.